---
Welcome to the SS Normandie Webring. This webring is brought to you by Ships of the Line. The purpose of the webring is to bring together all sites on the web that want to honor the greatest ship to ever grace the ocean, the SS Normandie. This ship had a very exciting, but unfortunately short life. Launched in 1935, she was the largest ship ever. The first ship to exceed 1000 feet in length, and 80,000+ tons. Normandie was and is the epitome of ocean liners.

To join the Normandie Webring, click the link below and fill out the information about your site.

To find books, and videos on the Normandie & other ships, check out Ships of the Line's Bookstore in association with Amazon.com. CLICK HERE!
---
the SS Normandie Webring was last updated on October 2, 1999.
The SS Normandie Webring is brought to you by Ships of the Line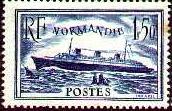 email the webmaster
---