SS America wearing Neutrality Idetification before the US entry into WW2.
S.S. America
The SS America isn't mentioned very much anymore. She seems to be overshawdoed by her baby sister United States. America, though has had an exciting and eventful life. Launched the day before World War II started. America entered the James River from Newport News Shipbuilding on August 31, 1939. With Europe engulfed in war, the America turned to other neutral ports to call on (as the United States was a neutral nation until December 8, 1941). When Japan visited Pearl Harbor on December 7, 1941 America along with thousands of men where called to action. Under control of the United States Navy America now the USS Westpoint was a troop transport vessel. She sailed the world bringing the men from Australia and New Zealand to the European theatre of action. Westpoint/America survived several attacks by the Japanese and delevered all her troops safely to their destinations.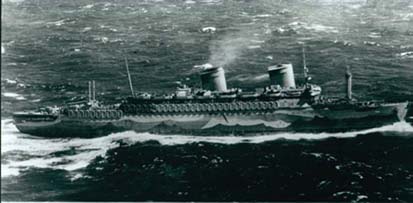 USS Westpoint
(image courtesy of SS America/SS Australis page by Darren Byrne)
When Westpoint was returned to civilian service as the America she quickly became a favorite of many. In 1950 she was the largest and fastests ship in the US merchant marine. Then in 1952 she was joined by her sister United States. The two where running mates until the early 1960's when the America was sold and renamed the Australis. She continued to serve people throughout the 60's and 70's. By the late 1970's her life took a turn for the worse. In 1978 renamed the America she was arrested by US officials for faliure by her owners to pay debts (yes they can arrest ships). Shortly after this she was purchased by the company that had just sold her. Once again renamed this time to Italis and her forward funnel removed she sailed for the remainder of the 70's and into 1980.
SS Italis
After a brief period being called the Noga she was renamed the Alferdoss. The Alferdoss sat in the middle of a harbor for ten years before being sold again and renamed the America Star. This would be the last time the ship would change hands. America Star was to be towed to Thailand to be refitted but during a storm her tow lines where lost and she ran aground on the Canary Islands. Shortly after the crashing waves broke her in two and her stern turned over and sank. Today her bow section remains as a monument to a great ship and a grand lady.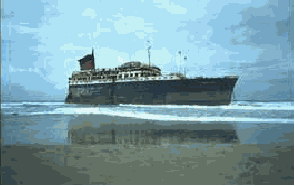 America today
For more information on the America / Australis visit the following sites:
A tribute to a liner of yesteryear SS America/SS Australis, by Darren Byrne.
S.S. Australis Homepage by Ken Ironside.
---
page entered Ships of the Line 27 May, 1999