(<--to navigate through the Ships of the Line site, use the SOTL menu to the left)
Ships of the Line celebrates two years on the Web.
On February 7, 1998 a site was introduced to memorialize the great ships of the sea. That site known as Ships of the Line was a one page list of links connecting you to sites about ocean liners. Since then SOTL has grown to include information on selected ships, more links to great liner sites, access to Ocean liner books, and videos, two webrings, and news on the newest queens of the sea. The webmaster of SOTL wishes to thank all who have visited us and continue to keep the memory of the great ships alive. Thanks to all for making Ships of the Line what it is today.
THE NEXT CLASS OF OCEAN LINER: CUNARD'S PROJECT QUEEN MARY CONTINUES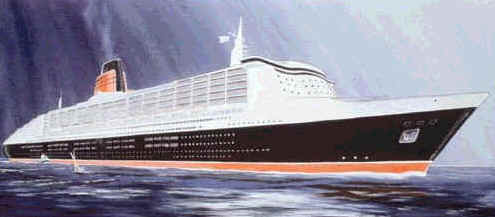 The newest incarnation from Cunard will "become famous before she even takes to to the seas". Check out SOTL News to find out more about her. CLICK HERE.
---