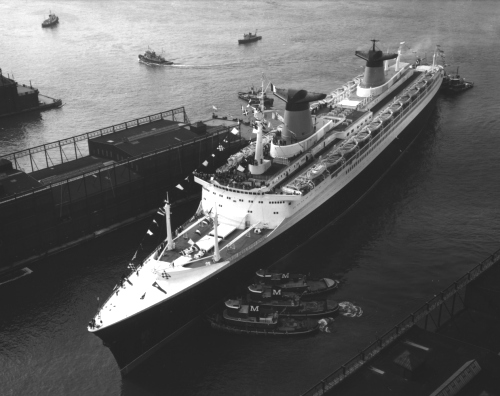 image courtesy of Kevin Tam, webmaster of Ships of State
S.S. France
Following World War Two, the French Line had no superliner to call their own. With the demise of the Normandie in New York Harbor in 1942, the French only had the Ile de France as their number one trans-atlantic liner. The French were awarded the German liner Europa which was captured by Allied troops near the war's end. Renamed the Liberte, she took the French line through the 1950's. The French Line decided to introduce another great liner to replace the Ile de France and the Liberte which were placed out of service by 1960. The France was the last ship to be specificly built for the trans-atlantic trade.
France is 1,035 feet long (the longest ocean liner yet), 110 foot beam, and a 35 foot draft. She weighed 76,049 tons. For the remainder of the 1960's she served the French as the icon of national pride. In 1974 the oil crisis hit the French Line hard and caused the France to be docked at the Port of Le Harve indefinitely. After an unsuccessful bid by a group in Florida to make her into a floating hotel. She was bought by the Norwegian Cruise Line and refurbished and renamed the Norway. Two promenade decks were added, but it is the opinion of the webmaster that they take away the beauty of this great ship. Painted blue she now sailed under the the Norwegian flag, but the French still consider her theirs. When she returned to Le Harve as the Norway she was greeted by 100,000 spectators.
She's still sailing today in the Caribbean, out of Miami.
The France today as the Norway

Norway and Royal Caribbean's Vision of the Sea at an undetermined location-photo source: unknown
For more information on the France check out a German site on her. If you do not understand german then you can use AltaVista's Babel Fish to translate. Just give Babel Fish the URL of the site and it will translate it into english.
---
page last updated 28 May 1999